More than 10,000 Jewish men, women and children from all levels of The Hague society since 1694 are buried here.
Among the almost 3,000 remaining gravestones mark the graves of for instance (including the year of burial) (for the Jewish year add 3760 or 3761 to the Christian year):
1 Ziskind Pos (Alexander Polak)), founder of the cemetery, oldest, first, High German grave, 1697
2 Beile Pos, wife of Ziskind Pos, 1700
3 Jozef Israël Mello, lead singer, second grave, first Portuguese grave, 1699
4 Tsadik Cohen Belinfante, important rabbi, 1786
5 Arje Leib Löwenstam, rabbi of Amsterdam, son of rabbi Saul Löwenstam, "Saul Amsterdammer"
6 Dina Halevi, wife of rabbi Saul Halevi, daughter of the rabbi from Amsterdam, Arje Leib Löwenstam
7 Saul Halevi, 'Hager Rav', head rabbi of The Hague, famous learned rabbi, 1785. Many visit the grave yearly on 25 Iyar, the day of his passing away; a dedicated candle box marks the grave. Tombstone spectacularly overgrown by oak tree.
8 M. Lehren, well known rabbi in Den Haag, 1815
9 Jacques Levi Lassen, well known merchant from Den Haag, and his sister Pauline Levi Lassen, 1962 / 1958.
10 Mr. Carel Asser, important lawyer,1836
11 Jozef Asjer Lehmans, head rabbi of Den Haag, 1842
12 Sjalom Zurkann, provider premises Jewish home for the elderly Newé Sjalom, Den Haag, 1846
13 Mr. Lodewijk Asser, judge and member Provinciale Staten, 1850
14 Prof.Mr.Dr. Jacques Oppenheim, member Raad van State, 1925
15 D.S. van Zuiden, writer of history of Jewish Den Haag, 1941
16 Mr. M.H. Godefroi, first Jewish Dutch government minister, 1882 / 5642
17 Tobias Tal, head rabbi of Arnhem and Den Haag, 1898
18 Jozef Israëls, famous painter Haagse School, 1911 / 5671
19 S.L. Verveer, painter, 1876
20 Jacob van Jacob Ferares, Sefardic head rabbi Portugees Israëlitische Gemeente of Den Haag, 1884
21 Prof. Mr. David Simons, important law professor, 2000
On the cemetery one can recognise each of the 21 gravestones mentioned here by a small white wooden post next to the stone showing a number 1 to 21.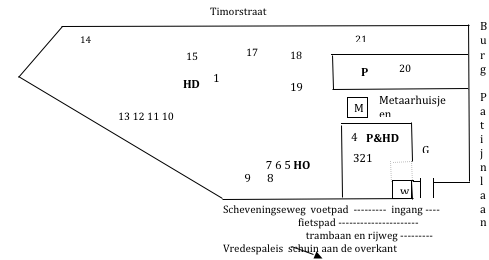 Legenda:
P&HD oldest segment
Portuguese & High German
P Portuguese segment (Sefardic)
HD High German segment (Asjkenazim)
HO oldest HD segment
w former janitor's house
G glass memorial
M Pre burial house & Memorial
LAYOUT OF THE CEMETERY WITH THE NUMBERS OF THE GRAVES MENTIONED ABOVE
We have not yet marked are the gravestones of:
the two brothers of the 19 th century painter Salomon Verveer; the painter Elchanon Verveer and Daguerre-photographer Maurits Verveer;
M.S. Vaz Dias the founder of the first press bureau in the Netherlands: Persbureau Vaz Dias. Later the ANP;
the 19 th century cast iron manufacturer Enthoven;
family members of the 18 th century financier Fransico Lopes Suasso, himself buried at Ouderkerk aan de Amstel near Amsterdam, who financed William III of Orange and Marie Stuart in 1688 resulting into the Glorious Revolution in England;
Tobias Boas, , around 1750 a financier of the States General of Holland, principal of the Ashkenazim community of The Hague and advocate of rights and freedoms of Jews in Holland and surrounding countries;
the many goldsmiths, civil servants, soldiers, physicians and lawyers;
How ever the great majority resting on this cemetery have no gravestones:
men and women from the poor Jewish neighbourhoods in The Hague; pedlars, butchers, small dealers, beggars and many, many children;
those who were buried in secret during the German occupation in WOII.
Deze post is ook beschikbaar in / this post is also available in: Dutch